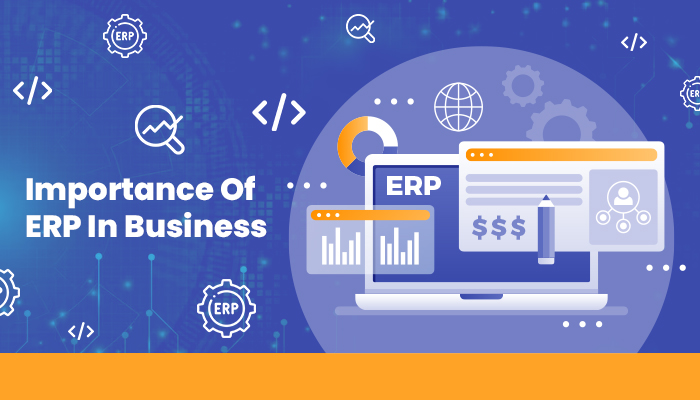 What Are The Importance Of ERP In Business?
ERP is one of the most powerful for businesses across the global market. It assists and aids businesses in modernizing their operation with innovative and data-driven technology. Staying ahead of the competition requires more than agility as it demands precision and efficiency in every aspect of operations. The importance of ERP in business is reshaping the way businesses manage their resources, streamline processes, and make crucial decisions. However, the importance of ERP in business extends far beyond mere efficiency; it's a transformative force that can significantly impact an organization's bottom line and long-term success.
Businesses that implement ERP systems can reduce operational costs by up to 23%, and it is estimated nearly 95% of organizations report improvements in their business processes after adopting ERP. These statistics emphasize about critical role ERP plays in modern business strategies. ERP is an indispensable tool to thrive in today's competitive landscape.
In this blog, we will delve deep into the multifaceted importance of ERP in business, exploring how it enhances productivity, data accuracy, decision-making, and much more, all backed by compelling statistics and real-world examples. So, let's embark on a journey to unravel the transformative power of ERP and learn why ERP's importance is high in the business world.
Importance of ERP In Business
Enterprise Resource Planning (ERP) is essential for businesses due to its transformative impact on operations and competitiveness.
Here are seven crucial reasons why ERP is indispensable, supported by facts and statistics:
Optimizing and automation is one of the essential features of ERP making it more demanded in the market. According to Panorama Consulting Solutions, 95% of organizations reported improvements in business processes after implementing ERP systems.
Automation of repetitive tasks assists in increasing the productivity of employees as they tend to focus on more complex tasks. The Aberdeen Group reports that ERP systems can boost productivity by 25%.
ERP reduces data errors through centralized data management. CFO Research found that 60% of CFOs believe ERP systems significantly improve data accuracy.
With automation and optimization through ERP systems reduction of cost occur operational and administrative costs. On average, companies can reduce these costs by 23% with ERP, according to the Aberdeen Group.
With access to real-time data informed decision-making becomes easier. A study by IDC revealed that 95% of businesses using ERP reported improved decision-making.
ERP optimizes inventory levels by informing what is in excess and what is short in inventory, reducing carrying costs. According to the Institute of Management & Information Systems (IMIS), ERP can cut inventory costs by up to 35%.
ERP improves responsiveness to customers' queries which makes service accessible to customers at the right time due to the presence of customer data. An estimated 65% of companies say their ERP system has led to better customer service.
How To Implement ERP System In Business
Implementing an ERP system in your business is a complex endeavor that requires careful planning and execution. Here's a step-by-step guide to help you implement an ERP system successfully:
Identify your business needs and objectives. Determine why you need an ERP system and what specific problems it should solve.
Create a detailed budget that includes software costs, hardware costs, implementation services, training, and ongoing maintenance.
Select the Right ERP System
Research and choose an ERP system that aligns with your business needs. Consider scalability, industry-specific features, and user-friendliness.
Form an Implementation Team
Assemble a cross-functional team that includes members from IT, finance, operations, and other relevant departments. Appoint an ERP project manager.
Cleanse and organize your existing data. Eliminate duplicates and outdated information. This is crucial for a smooth migration of data.
Customization & Configuration
Customize the ERP system to fit your business processes. Configure settings, workflows, and modules accordingly.
Provide comprehensive training to your employees. Ensure they understand how to use the ERP system effectively.
Migrate your clean data from legacy systems to the ERP system. Verify data accuracy after migration.
Run a pilot test with a small group of users to identify any issues and make necessary adjustments.
Roll out the ERP system to all users. Monitor its performance and address any emerging issues promptly.
Continuously monitor the ERP system's performance and user feedback. Address any concerns and make improvements.
Implement a change management strategy to ensure a smooth transition. Communicate changes effectively and involve employees in the process.
Integrate the ERP system with other software and systems your business uses for seamless data flow.
Testing & Quality Assurance
Conduct thorough testing, including stress testing, security testing, and performance testing, to ensure the ERP system functions as expected.
Implement robust data security measures to protect sensitive information. Regularly update security protocols.
Maintain detailed documentation of the ERP system configuration, processes, and workflows.
Provide ongoing user support and assistance to address user concerns and optimize system usage.
Regularly assess the ERP system's performance against predefined KPIs. Make improvements as needed.
Establish a feedback loop with users to gather their input and make continuous improvements.
Ensure the ERP system complies with industry regulations and standards.
Plan for the system's scalability as your business grows. Ensure the ERP system can accommodate increased data and user loads.
Maintain a healthy relationship with your ERP vendor for support, updates, and ongoing collaboration.
Data Backup & Disaster Recovery
Implement robust data backup and disaster recovery plans to safeguard against data loss.
Continuously measure the return on investment (ROI) of your ERP system to ensure it delivers the expected benefits.
User Training & Refreshers
Provide periodic training and refresher courses for users to maximize the ERP system's capabilities.
Periodically review and optimize your ERP system to leverage new features and technologies.
Develop a long-term strategy for your ERP system, considering technology advancements and evolving business needs.
Recognize and celebrate milestones and successes achieved through the ERP implementation.
Remember that ERP implementation is an ongoing process, and it's crucial to adapt and evolve as your business and technology landscape change.
Conclusion
In conclusion, Enterprise Resource Planning (ERP) is more than just a business tool; the importance of ERP in business makes it a transformative force to empower organizations in today's competitive markets. ERP systems streamline operations, boost productivity, enhance data accuracy, reduce costs, make informed decisions, optimize inventory, and improve customer satisfaction.
These compelling statistics and real-world examples underscore the critical role ERP plays in modern business strategies. ERP is not just a solution; it's a strategic imperative for organizations seeking precision, efficiency, and long-term success.
Implementing ERP is a complex journey, but with careful planning, the right team, and a commitment to continuous improvement, businesses can harness the full potential of ERP importance in business to drive growth and innovation. So, embrace ERP importance, and embark on a transformative journey that leads to operational excellence and a competitive edge in the dynamic world of business.