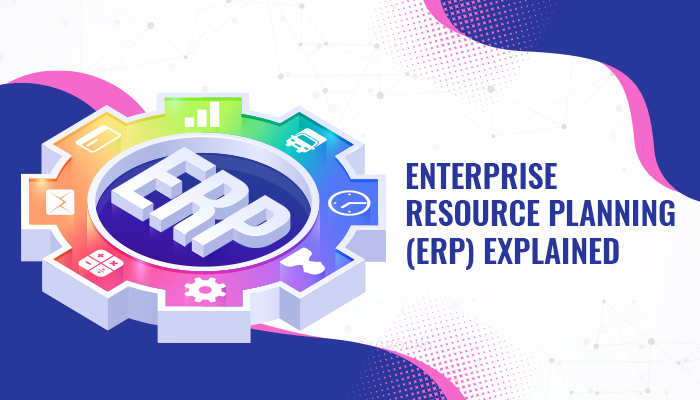 A Detailed Guide On Enterprise Resource Planning (ERP)
Every corporate and small business requires proper insight into their business related to performance, forecasting of future trends, and streamlining operations for ease. Let us examine in this blog which has ERP explained in detail with in-depth insight for better understanding for people.
Did you know that Enterprises Resource Planning importance productivity growth and boost it by up to 25% while reducing inventory costs by as much as 35%? With businesses becoming increasingly complex and data-driven, the need for a comprehensive and integrated solution like ERP has never been more critical.
What is ERP System
It is a comprehensive business management system that integrates various core functions and processes within an organization. This integration streamlines data flow and enables real-time decision-making.
How ERP System Benefits Business
ERP systems offer a wide range of benefits to businesses across various industries. Let's delve into each of these benefits in detail, supported by extensive statistics and facts:
Streamlined Business Processes
Integrating and streamlining various business processes, reducing manual tasks and inefficiencies.

A study by Panorama Consulting Solutions found that 95% of organizations reported improvements in business processes after implementing ERP systems.
Improved Productivity
Automation of repetitive tasks, allowing employees to focus on higher-value activities.

The Aberdeen Group reports that ERP systems can increase productivity by 25%.
Enhanced Data Accuracy
ERP reduces data errors through centralized data management.
A survey by CFO Research found that 60% of CFOs believe ERP systems have significantly improved data accuracy.
Cost Reduction
ERP systems help in reducing operational and administrative costs.

On average, companies can reduce these costs by 23% with ERP, according to the Aberdeen Group.
Better Decision-Making
ERP provides real-time data access for informed decision-making.

A study by IDC revealed that 95% of businesses using ERP reported improved decision-making.
Inventory Management
ERP optimizes inventory levels, reducing carrying costs.

According to the Institute of Management & Information Systems (IMIS), ERP can cut inventory costs by up to 35%.
Customer Satisfaction
ERP improves customer service through better access to customer data.

An estimated 65% of companies say their ERP system has led to better customer service.
Market Competitiveness
ERP helps companies stay competitive by streamlining operations.
A report by Acumatica found that 53% of manufacturing executives consider ERP as a crucial technology to maintain competitiveness.
Financial Management
ERP systems offer robust financial management tools.

A study by Statista shows that 37% of companies invest in ERP to improve financial management and reporting.
Scalability
Cloud-based ERP systems can easily scale with business growth.

The global cloud ERP market is projected to grow at a CAGR of 7.6% from 2021 to 2026, driven by scalability and cost-efficiency.
Market Share
Leading ERP vendors include SAP (24%), Oracle (16%), Microsoft (13%), and others.

These vendors hold significant market share, indicating the widespread adoption of ERP.
Employee Training
Employee training is essential for ERP system utilization.

A survey by Training Magazine found that companies with ERP systems spend an average of 21.2 hours per employee on training.
Integration Challenges
Integrating ERP systems with existing software is a common challenge.
According to the Panorama Consulting Solutions report, 42% of organizations face challenges during ERP integration.
ROI
ERP projects typically offer an ROI of 81% within three years.

This attractive ROI makes ERP a sound investment for businesses.
Global Reach
ERP is not limited to large enterprises; 53% of small and medium-sized businesses (SMBs) have invested in ERP.

SMBs recognize the benefits of ERP in enhancing their operations.
Real-time Data
ERP provides real-time data access, allowing businesses to make agile decisions.

This is especially crucial in today's fast-paced business environment.
Compliance & Security
ERP systems enhance compliance and data security.

They help in ensuring regulatory requirements are met, reducing risks associated with non-compliance.
Customer Relationship Management (CRM)
ERP often includes CRM modules, improving customer interactions and retention.
CRM Magazine reports that businesses using CRM software can expect an ROI of $5.60 for every $1 spent.
In conclusion, ERP systems offer a wide array of benefits, from streamlining processes and improving productivity to enhancing data accuracy and reducing costs. These systems have become essential tools for businesses looking to stay competitive and agile in today's ever-evolving business landscape.
Enterprises Resource Planning Importance
ERP explained is of paramount importance for organizations in today's complex and competitive business environment.
Here's a breakdown of the significance of ERP for enterprises:
Streamlined Operations
ERP integrates various business functions, from finance to human resources, into a single system, promoting efficiency and accuracy.

It reduces the need for manual data entry and minimizes errors.
Enhanced Data Visibility
ERP provides real-time access to data and analytics, enabling informed decision-making.
It offers a holistic view of the organization's operations, helping leaders understand trends and make strategic choices.
Improved Productivity
ERP automates routine tasks, allowing employees to focus on more value-added activities.

It reduces redundancy and manual paperwork.
Cost Savings
ERP systems help in cost reduction by optimizing processes and reducing administrative overhead.

Organizations can save on inventory costs, labor costs, and operational costs.
Better Inventory Management
Optimization of inventory levels by providing accurate demand forecasts and tracking inventory movements.

It minimizes excess stock while ensuring products are available when needed.
Financial Management
ERP systems offer robust financial tools for budgeting, forecasting, and reporting.

They help in managing expenses, revenue, and financial compliance.
Customer Satisfaction
ERP enhances customer service by providing easy access to customer data.
It enables organizations to respond quickly to customer inquiries and needs.
Competitive Advantage
ERP helps organizations stay competitive by improving operational efficiency and agility.

It enables businesses to adapt to changing market conditions and customer demands.
Compliance & Risk Management
ERP systems assist in regulatory compliance by ensuring accurate and transparent record-keeping.

They help organizations identify and mitigate risks through real-time monitoring and reporting.
Global Expansion
ERP systems support global operations by handling multiple currencies, languages, and legal requirements.

They facilitate international growth and expansion.
Data Security
It include robust security features to protect sensitive business data.

They help in safeguarding against data breaches and unauthorized access.
Employee Collaboration
ERP fosters collaboration by providing a centralized platform for employees to share information and collaborate on projects.
It enhances teamwork and knowledge sharing.
Scalability
ERP systems can scale with business growth, making them suitable for both small businesses and large enterprises.

They adapt to changing needs and complexities.
Business Intelligence
ERP systems offer advanced reporting and analytics capabilities.

They provide insights into operational performance, helping organizations make data-driven decisions.
Innovation & Adaptation
ERP vendors regularly update their systems to incorporate emerging technologies.

This ensures that organizations can leverage innovations like AI, IoT, and blockchain.
Conclusion
In conclusion, Enterprises Resource Planning importance is not just a technological investment; it's a strategic imperative for modern businesses. As ERP explained offer a myriad of advantages, from streamlining operations and boosting productivity to enhancing data accuracy and reducing costs.
Their significance extends beyond mere efficiency; ERP explained empowers organizations to stay competitive, adapt to market changes, and make informed decisions in real-time. Moreover, ERP explained here plays major role in ensuring compliance, data security, and global expansion is indispensable. In today's dynamic business landscape, ERP isn't just a tool; it's the cornerstone of success and resilience.